Every expedition takes a lot of planning, a lot more than most people realize, or appreciate.
Hours spent online checking to see if trails are open, what is the weather forecast, accommodations, food/dining, camping availability, fuel availability, and more.
Here is an example of a finished itinerary that is emailed to expedition participants.
—-
Here is the planned itinerary.
Please email me to confirm that you will be coming so that I have an accurate head/vehicle count.
Email: frank@blackrhinoexpeditions.com
Please include your:
-Name
-Number in your party/truck and their names
-Your cell number
Emergency Contact Name(s) and Phone Number(s)
Please ensure that your vehicle is ready for three days off-road.
Bring extra spare tires, if that applies to you. (Shah) 😉
Bring the usual kit- water, FRS radio/Ham Radio, camera, food for on the trail, etc.
Weather Forecast: It will be warm (in the 90s during the day at Furnace Creek), though not HOT!
It will be chilly at the higher elevations- woo hoo!
Beatty is forecast on Saturday to have a high of 75! It will be much cooler at Strozzi Ranch and Phinney Mine. (Elevation above 5,000 feet)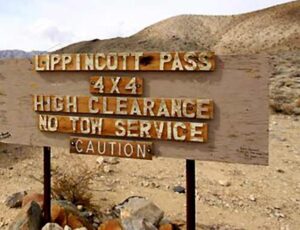 Details-
It looks like we'll have 6-12 trucks on this trip- Shah and his group will join up with us on Saturday.
Friday-
Meet at Maturango Museum in Ridgecrest at 9 am.
Address: 100 E. Las Flores Ave., Ridgecrest, CA 93555
Leave at 9:30 am.
Trona Pinnacles
Ballarat
Pleasant Canyon
Lunch on the trail
We'll spend the night at Panamint Springs.
We'll have dinner at Panamint Springs.
– Panamint Springs reservations
www.panamintsprings.com
Saturday-
Breakfast
Break camp
Leave Panamint Springs at 9 am.
Mosaic Canyon
Stop at Furnace Creek for gas and lunch.
Echo Canyon
Inyo Mine
There is one considerable technical dry waterfall we have to climb up.
Beatty
We'll spend the night in Beatty.
We'll have dinner in Beatty.
There are a few places with rooms available in Beatty.
I am booked at the Death Valley Inn in Beatty.
I believe that the Death Valley Inn has no more vacancies, but there are other opportunities nearby.
Sunday-
Breakfast
Leave Beatty at 9 am.
Head north on Highway 95 about 10 miles.
Turn onto dirt road, head west to Strozzi Ranch.
After Strozzi Ranch, head to Phinney Mine.
From Phinney Mine, return on dirt road.
Head south to Rhyolite.
Lunch at Rhyolite.
Leave Rhyolite, head to Titus Canyon.
Once we're through Titus Canyon, we'll head home.
Looking forward to seeing you all on this trip.